Plan your Visit
Get the Most From Your Viewing Experience
Choose an evening following a day with deep blue skies (indicating low humidity and clear air) for ideal conditions at the L&A County Dark Sky Viewing Area.
As pretty as the moon is, for dark sky viewing with lots of stars and views of the Milky Way, choose a moonless or close to moonless night.
Bring binoculars or a telescope if you have one. While they aren't necessary to enjoy the night, the conditions are perfect to enjoy these tools. 
A reclining lawn chair is an ideal accessory, along with warm clothing and a blanket.
When pulling your vehicle into the parking lot, please turn off headlights as soon as possible. Even the smallest amount of light can disrupt night sky photographs and disturb people's ability to focus on the stars.
It really is dark, so bring a SMALL, DIM flashlight to see where you are walking. When you're on the viewing platform, please don't shine any white light (red light is acceptable).
Bring bug spray... just in case.
Websites to help you choose the perfect night to stargaze: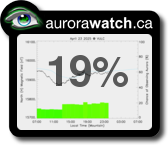 Looking for a place to stay before or after your visit?